Finding the perfect webcam trans model
In every corner of the internet, you're able to find a wide array of pornographic content that's free and readily available. Aside from traditional porn, shemale cams take up a great portion of all online adult content. Although there is an abundance of camming services, not all of them offer the same content so it's crucial to use the one that's right for you in order to have a great viewing experience. This is somewhat hard to do, but luckily many sites focus on collecting trans cams from various websites and putting them on display.
LemonCams.com is a cam aggregator that collects the hottest live shows from 11 popular adult streaming platforms. While there are a lot of websites that focus on collecting webcams, this site has some unique features that separate them from the rest. Others revolve around providing as many shows as possible at once, whereas the goal of LemonCams is to be a phenomenal search engine that has intuitive tools that will lead you to a model that's perfect for you.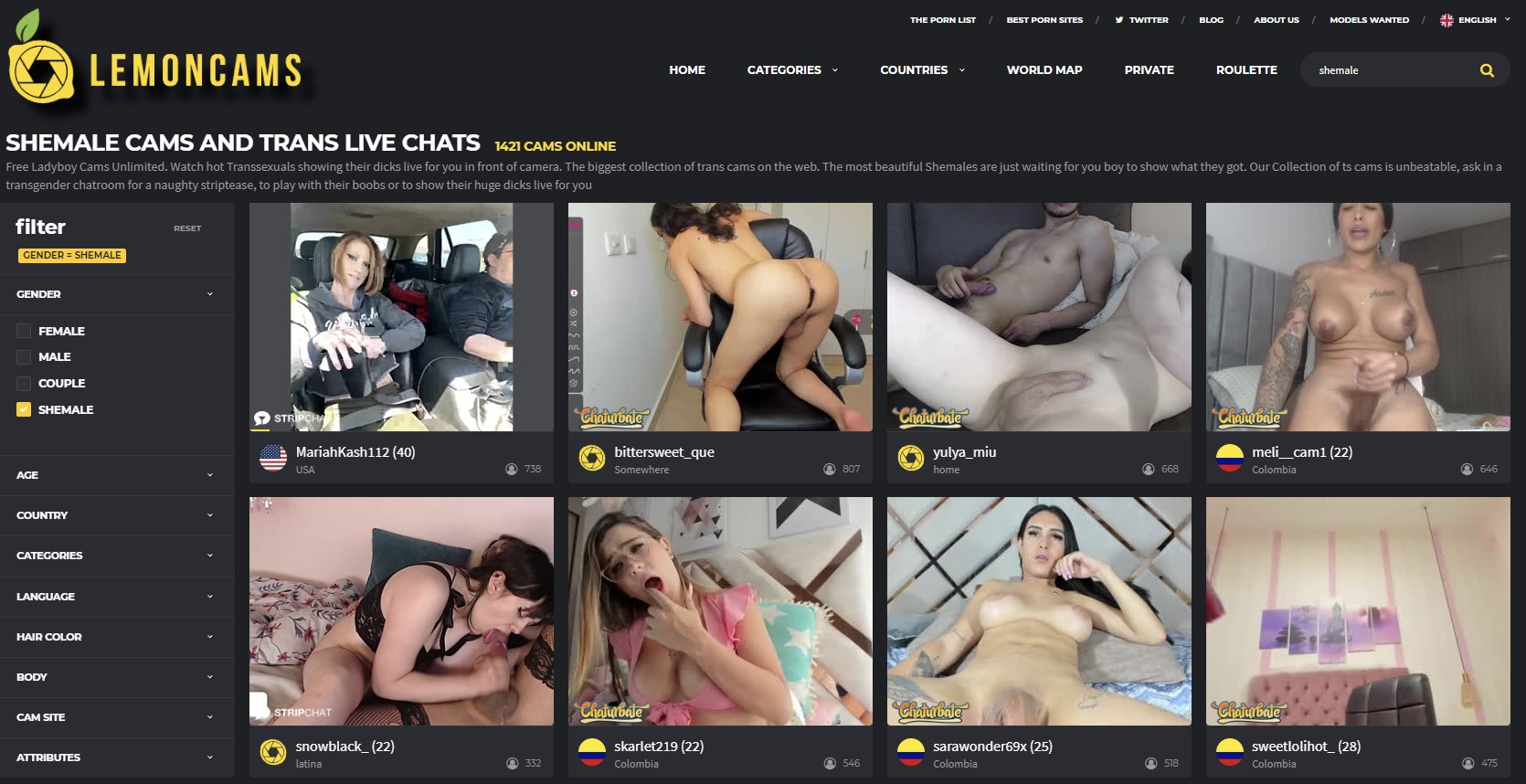 An amazing cam search engine
On average the amount of live cams you're able to watch on the website is around 20k, so using filters is a must to discover models based on your preferences. Thankfully, LemonCams has a huge list of categories that's easy to access straight from the main page. The most commonly used categories are based on the model's body proportions, hair color, and ethnicity. On top of those, there's also an assortment of activities such as blowjobs, double penetration, and so on.
The feature that's used by every user and is the reason LemonCams is unique is the world map. Whenever you load up the website you'll see a list of cam performers that currently live near your location. If you press on the world map you're then redirected to a page that showcases the globe and every country and the amount of currently live models in them. Not only is it useful for finding performers in your area that speak your native language but it also works flawlessly.
Simple gorgeous design
Upon entering the site the first noticeable difference is the layout and overall design of the main page. In the adult camming space most websites use extremely simple designs that focus solely on thumbnails and nothing else. Speaking of thumbnails, this website includes important information about the streamer within the thumbnail, such as the age, location, number of viewers, and so on. Since the site also provides a list of private cams that aren't free, knowing their information before entering is crucial.
The overall layout isn't over the top with ads and banners, so being immersed in the adult content on display is done with ease. Within the top section of the page, you'll find the filters and tags that are intuitive to use and help you discover performers based on your needs within seconds. While scrolling you'll notice that the shows aren't just listed off in no particular order, but instead, they're separated into categories. This way you can discover the top cams at the moment or from your country without having to search for them yourself.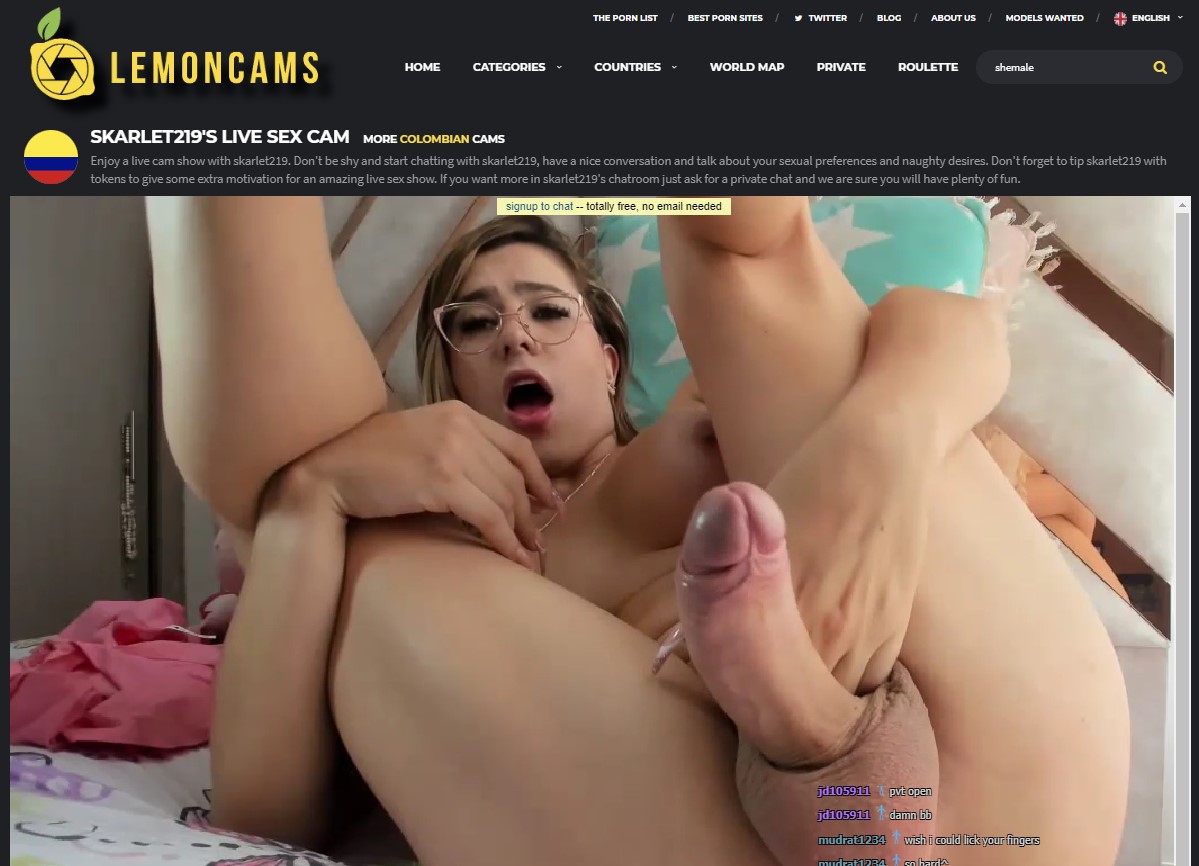 Additional content
Although LemonCams is striving to be the best live sex cam search engine, it also provides additional options that users can fool around with. At the very top of the main page, there's a link to the site's blog post. Inside you can find articles about other live cam services and porn in general to real-life tips on improving your relationship. Despite the fact that they're not regularly posted, the articles are actually well-written considering the fact that this is not the website's main focus. The information you can find when reading the blog is very helpful for new users.
Keeping the audience engaged helps keep the site running, so LemonCams is doing its best to spice things up. For those that get bored of the same old cam performers, sex cam roulette is a perfect way to explore new models and kinks. Clicking on it leads you to a random model's show so you never know who you can discover. Since the most popular broadcasters get pushed to the front of the page, roulette helps those with smaller communities get the recognition they deserve.
Exploring stunning performances
If you've never visited LemonCams you're going to be pleasantly surprised when you do. Although there are flaws that need to be looked into, the overall experience on the website is far better than its competitors. Those that have issues with finding the right camming partner will thoroughly enjoy their time on LemonCams.com. Whether you're looking to create a bond with the performer or just watch them get naughty on cam, the site has a huge library of cams that will satisfy your needs.